Anaesthesia Rotameters Units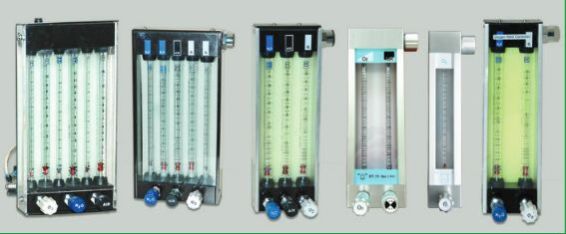 Business Type
Manufacturer, Exporter, Supplier
Type
Anaesthesia Machine
Accuracy
Compliant to ISO 5358, or ISO 15002, or VDI 3513 (upto G=2.5, lin=50%)
No. of Tubes
1-tube to 6-tubes available as standard
Click to view more
Product Details
Tube length
Borosilicate glass, Standard 230mm. Other sizes on request (See tube catalogue)
Antistatic
Conductive tubes and bushes for static dissipation
Float
Anodised Aluminum, Red, rotating as standard.
Anti Hypoxia
2-tube to 6-tube versions are also available with Antihypoxia device.
FA valve
Available with Fine adjustment valves for accurate flow control
Flow Range
High flow tubes are available in ranges of 0-10, 0-12. 0-15 LPM Low flow tubes are available in rang
Gases
Oxygen, Nitrous Oxide, Air, Xenon
Connections
Inlet and outlet connections are available as per your choice. Most common are ISO taper with RH ou
Background
Yellow green "Glow in the dark" for easy viewing
Body
Anodised aluminum, or powder coated, as per your choice.
Front
Front cover made from transparent acrylic sheet
Description:
Anaesthetic Rotameters are used for measuring the rate of flow of gases used for anaesthesia. The gases measured are Oxygen, Nitrous oxide, Carbon dioxide, Xenon, and Air
Anaesthetic Rotameters units with control valve system can be of 1 tube, 2 tubes, 3 tubes and so on as per user requirement. It comes as a complete unit for fitting on the Anaesthesia machine.
Dimensions in mm (Approximate)
Tubes
Height (A)
Width (B)
Depth (C)
Remarks
1-Tube
280
35
37
The standard dimensions are given here. Customised dimensions are also available.
The dimensions are without FA valve and inlet/outlet connections.
2-Tubes
280
63
37
2-Tubes (Cascade)
300
63
37
3-Tubes
300
105
40
5-Tubes
305
150
45
6-Tubes
305
150
45
Looking for "
Anaesthesia Rotameters Units

" ?